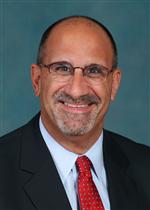 The first day of school is one of my favorite days of the year. With it comes so much promise. Students, the Board of Education, teachers, and the entire District have a fresh attitude. Like New Year's Eve, the first day of school is a time to make new resolutions, set new goals, introduce new programs, and build on the successes of programs already in place. In 2022 – 2023, the District is proud to provide the best educational programs to support our students from cradle to career.
Our priority is ensuring that our students are safe in school and that our parents feel secure leaving their children under our care. Therefore, we are expanding our Evolv ® Weapons Detection system to include our elementary schools. In addition, the District is installing cameras and alarm systems on all 340 exterior doors to our schools. If an entry is propped open, held open, or in any way left open for longer than a pre-determined, brief amount of time, an alarm will go off.
In addition, the District is planning to add secure vestibules to each of our buildings. Visitors to our schools and Central Office will be buzzed in the first set of doors and enter another protected lobby with a ticket window. At the window, all guests must present a valid ID (driver's license or government-issued ID card) that will be scanned.
The District has added four school resource officers (all city of Niagara Falls police officers) in our secondary schools. In addition, an "Officer of the Day" will add an extra set of eyes during school arrival and departure times.
With these much-needed precautions in place, we still want to ensure our schools look inviting, warm and welcoming. Therefore, we will enhance our school branding by displaying more student artwork, photographs, awards, etc.
The Niagara Falls High School Post-Secondary Success Program (PS2) has some exciting changes for the new year. Two new PS2 partners, Covanta and Olin Corp., have signed on and will work with our students this fall. In the 2022 – 2023 school year, 50 more high school seniors will be paired with our community business partners for internships. Forty-five high school juniors will participate in our job shadow program with our partners. Twenty students are enrolled in the General Construction Pre-apprenticeship Program starting this fall, collaborating with local trades unions at the Laborers' Local 91 training facility.
This fall, we plan to open an additional location for our Early Head Start (EHS) program at the Community Education Center (CEC), 6040 Lindbergh Ave. The CEC will also house our Head Start administration office.
The District has again partnered with HANCI's Foster Grandparent program. Additionally, we will have Foster Grandparents in every HS and EHS classroom. In addition, University Pediatric Dentistry will provide dental screenings quarterly. EHS / HS is entering into partnerships with an array of community partners, including Cornell Cooperative Extension, WIC, Pinnacle Community Services, Fidelis Health, and Help Me Grow WNY, amongst a host of other community-based organizations.
Our Pathways in Technology (P-TECH) program continues to attract students who wish to prepare for high-skills jobs in technology, manufacturing, healthcare, and finance. In 2022 - 2023, 108 students will participate in two P-TECH groups. We have 47 students entering 10th grade in cohort one and 61 students in cohort two.
This summer, 25 students from cohort one earned their first two college credits through Niagara County Community College (NCCC) for Engineering Drawing 1. Those students will be able to accumulate an additional six college credits throughout their sophomore year. In addition, P-TECH students in both cohorts will be touring businesses such as MOOG, NYPA, Olin, Stavatti Aerospace, and others, as well as the Niagara Aerospace Museum. They will also engage in career seminars at the Niagara Falls Culinary Institute, where they will hear from engineers in the field.
The updates above represent only a small portion of new programs and opportunities for NFCSD students. The District will never stop growing and adapting to the needs of our children. Parents and guardians, thank you for trusting us as we prepare your children to succeed, from cradle to career.