Main Entrance Traffic updates: I would like to thank everyone for reaching out to share concerns over the traffic congestion in the main entrance during arrival and dismissal. Our Safety Team has studied the current traffic flow and have made recommendations that would greatly improve the safety and wellbeing of your child(ren). These recommendations include the addition of speed limit signage (5 mph) and the creation of a distinct Drop-off lane with the addition of bollards (barriers) to create a clear line of traffic. In the future, we are looking to add a speed table/speed bump to slow traffic at the crosswalk. Thank you in advance for your patience as we complete this work to further ensure the safety of your child(ren). We are asking that you do not park or get out of your cars in the Drop-off lane, please park in the front parking lot.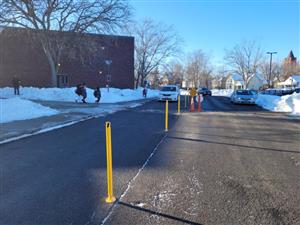 Dear Parents and Guardians:
On behalf of our faculty and staff members, I'd like to welcome you to Harry F. Abate Elementary School.
We are an Intermediate Sister School, educating students in Grades 3-6, hosting the Enrichment program Grades 2E-6E and sharing families with our Primary Sister Schools, Kalfas and Bloneva Bond.
I'm hoping you and your child(ren) are well, rested and ready to join us for the 2023-2024 school year. Our administrative team, custodial, office and teaching staff members have been working very hard this summer to prepare for the safe arrival of your child(ren).
Thank you in advance for your patience as we navigate a new schedule this year. Some changes include the extension of the school day to a 3:20 pm dismissal every day; therefore, there will no longer be a 2:00 pm early dismissal day on Wednesdays as we have done in the past.
As Principal, my primary goal is to maintain a safe and orderly environment for every student and faculty member as we offer quality instruction to your child(ren) in a secure and nurturing learning environment.
Every month, you will receive a school newsletter that will provide useful and timely information. Please read this newsletter closely to be informed of upcoming dates, events, program updates and important information needed to help your child be successful in school.
I am very excited to begin this school year with you and your child(ren) please do not hesitate to contact us if you have any questions or concerns.
Sincerely,
Mrs. Lynne Tompkins, Principal
Like us on Facebook: Click Here