2) 8th Grade Hoodies
The Student Council, with the help of the 8th graders, have designed a one of a kind hoodie that is now for sale. It is meant to celebrate our 8th graders during this very unique and challenging school year. This hoodie is for purchase for 8th graders only, sorry 7th graders – you will have your turn next year.
The cost of the hoodie will be $20. We will be accepting cash ONLY, no checks or money orders will be allowed. The below order form must be completed and returned with the $20 to Mr. Speidel in Room 222 by Friday, February 12th. Due to COVID protocols, Mr. Speidel will be the only person collecting money and order forms. Please do not turn anything into the main office or your homebase teacher. You can download the form for the 8th grade hoodie HERE.
If you have any questions, please contact Mr. Speidel at 716-278-5880 or your child can message him through Microsoft Teams.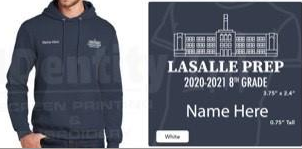 This is an image of the artwork for the front. It will go on an Aquatic Blue hoodie. There will be a back design. It is currently being decided on by the 8th grade students.
3) February Spirit Week
The yearbook committee is sponsoring Spirit week next week, February 8th through February 12th.

4) Need Technology Help??
Still need technology help? The district has a wide variety of options to help you and your student compelte their work. Just check the "Technology Help" page on our website by clicking
HERE.
Attention all students! After-school programs at LPS will be starting up shortly and we have a lot of great options to choose from this year! Some programs include: Phys. Ed. Club, Chess Club, Fitness Club, Whiffle Ball, Homework Help, Cursive Club, Beauty & Brains, and School Store. Please make sure to return a 21st Century application to your homebase teacher or to Mr. Gall in room 106 as soon as possible. You will not be allowed to attend any after school clubs until this permission slip is signed and returned! You can download teh form
HERE.
Please see Mr. Gall if you have any questions! Thank you :)
The Liberty Partnership Program in conjunction with NCCC will be hosting after school ZOOM meetings designed to enhance students personal and academic success. The schedule is below. You can
or pick a copy up in the guidance office. Forms can also be returned to guidance. If you have any questions, please contact Mr. Hutchinson or Mrs. Tambroni.