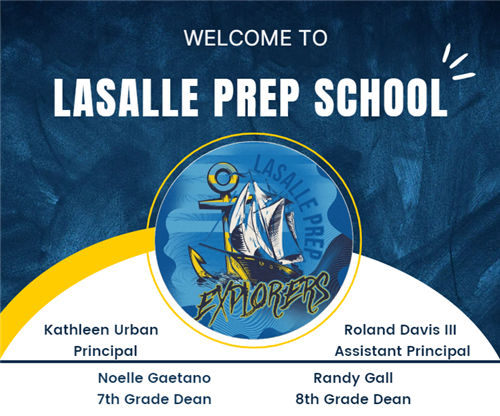 Kathy Urban, Principal
Roland Davis III, Assistant Principal
Noelle Gaetano, Dean of 7th Grade Students
Randy Gall, Dean of 8th Grade Students
Tuesday, January 31, 2023
---
If you have any questions about the schedule, please message us or call the main office, 278-5880.
---
Quick Announcements
Youth Risk Behavior Survey
The Niagara Falls City School District plans to conduct the Youth Risk Behavior Survey for students in Grades 7-12. The survey is intended to gather information about youth health behavior in order for us to determine how best to meet the needs of our Niagara Falls youth and improve school-based services. The survey will be voluntary and anonymous.
The survey links have been posted on the District website under "Site Shortcuts" at the bottom of the homepage. It is labeled
"Youth Risk Behavior Survey"
. Please feel free to review the survey.
The survey window will be January 17 - January 31, 2023. If you do wish to opt your child out from taking the survey, please contact your child's school. Remember, this survey is only for students in Grades 7-12.
21st Century After School Clubs are Returning to LaSalle Prep!!
LaSalle Prep is proud to be offering a wide variety of after-school clubs for our students. Applications will be in homebase teacher mailboxes tomorrow, Wednesday, September 28th. Or you can download the form from the academic section of our website. Clubs are scheduled to begin Tuesday, October 18th.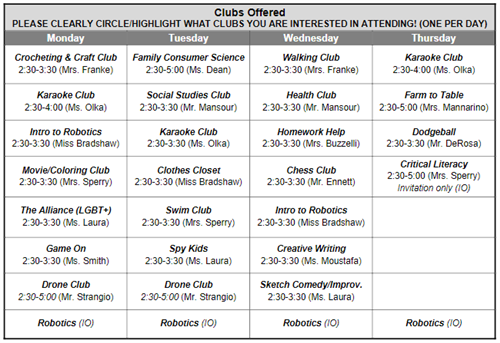 LaSalle Prep Handbooks
The LaSalle Prep parent and student handbook is available in the "Parent/Guardian" information section of our website. Just click "Handbook".
Join the LaSalle Prep Parent Engagement Group!
Attention Parents! LaSalle Prep is in need of parents to join our Parent Engagement Group (PEG)! We seek to...
* Build relationships and connections between school and parent/caregivers.
*Create a space to discuss any parent/caregiver or academic issues.
*Develop a common focus to help children thrive and grow, and enhance the educational experience for ALL students.
* Involve parents and caregivers in the activities of the school.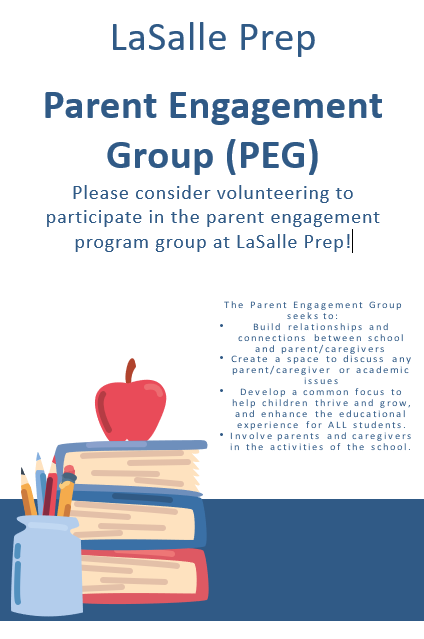 Supply Lists are available!
Click on the SUPPLY LISTS to see what your students need for back to school.

---
---
Want to stay up to date with what is going on at LaSalle Prep?
As we gear up for next year, remember to keep track of upcoming events by visiting the LaSalle Prep School web page and calendar!