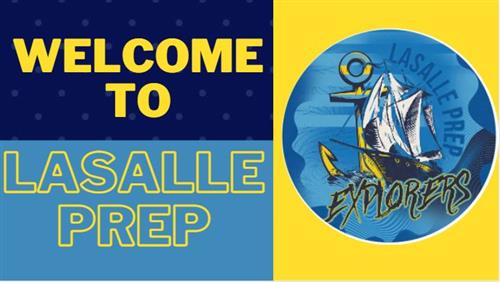 Kathy Urban, Principal
Roland Davis III, Assistant Principal
Randy Gall, Dean of Students
---
Thursday, July 29, 2021
We respectfully ask for your continued patience and support as we work through this unique situation and ensure the safety and success of all students. In the meantime, please feel free to reach out if you have any questions prior to the start of school.
Sincerely,
Kathleen Urban
---
Quick Announcements
1) Under Contruction!!!
Welcome back LaSalle Prep friends and families! Our website will be going through construction over the summer as we get ready for the 2021-2022 school year! Stay tuned for more infomation!! :)
2) Supply Lists
Supply lists for our 7th and 8th grade students has been posted. CLICK HERE to see them. Mrs. Mannarino's and Mrs. Tunnicliff's students, stay tuned and we will get them out ASAP!
---
Want to stay up to date with what is going on at LaSalle Prep?
As we gear up for next year, remember to keep track of upcoming events by visiting the LaSalle Prep School web page and calendar!
Follow us on Facebook at: https://www.facebook.com/lasalle.prep.35