NSS dads enjoy some donuts and training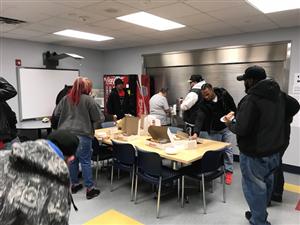 We had a good turnout for our first ever "Dads and Donuts" event. All NSS dads, uncles and grandpas were invited into the school for some donuts, coffee and conversation. During the event, the New York State Office of Alcoholism and Substance Abuse Services was here offering free Opioid Overdose Rescue Training.
Don't worry moms, aunts, and grandmas .. the school will be hosting a "Muffins for Moms" event on March 21.